Real talk ladies
Working at Frock Box, it is really hard for us as stylists to have a capsule wardrobe! Being surrounded by beautiful clothing arriving daily, the temptation is real! Luckily, there are no real "rules" to building a capsule wardrobe so this concept can be tailored to fit many needs – even if that need is constantly adding pieces to your closet!
Start with the Favourites!
We all have those pieces in our wardrobe that are the stars of the show – your lived in jeans, perfect fit leggings, favourite blazer etc. Try laying out those pieces on your bed or in your empty closet and try to get a feel of why you love them. Recognizing each piece's "job" in your wardrobe is step one in creating a useful to you closet! This is also a good time to notice any colour themes within your wardrobe. Pay attention to the different shades in your favourite pieces to get a good sense of what colours you are naturally drawn to.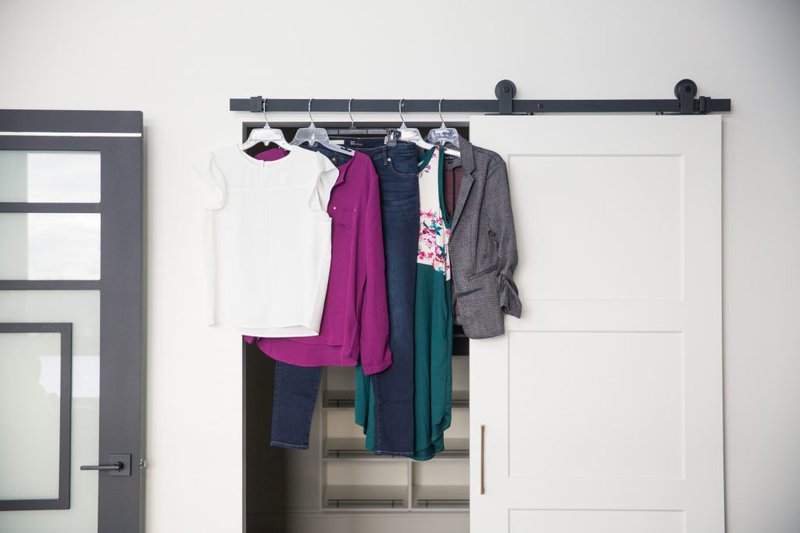 Try choosing 1 or 2 colours as your base, typically these would be neutral in tone. Black, white, navy, camel, brown or grey, whichever works for you! Pieces like denim, dress pants, leggings, blazers and jackets should be within your base colour palette.
Complimentary colours, found in blouses, skirts, dresses or cardigans, are colours you like and are naturally drawn to. If you love blush pink, try finding pieces with different tones or patterns that are in the blush family. It's helpful if patterns within your capsule wardrobe include either your base or complimentary colours, so that they generally match with most of your wardrobe. We always find a visual useful, and love creating mood boards on Pinterest to help! Dedicated capsule wardrobe enthusiasts shop with colour swatches, so that they can be sure their new purchases align with their current closet!
Sort by Style
Sometimes we get in a buying funk of purchasing pieces that are very similar to each other, and to what's already on your hangers. Choose to keep only those pieces that fit RIGHT NOW and make you feel good! Once you have the styles of clothing (casual tops, blouses, dresses) sorted into different piles, it will be easier for you to determine exactly how many of those pieces are actually useful or worn regularly.If you sort through your clothes and discover you have 10 striped t-shirts, this will be a good indicator that you love the style, but are unsure of how to style it. Don't just think of a capsule wardrobe as clothing either! This is a great time to create a capsule wardrobe for your shoe and accessory collection as well.
Another useful tool is the graphic below to create balance. You might notice that you have a lot of occasion items, and not enough basics, which can make getting dressed each day a challenge!

The Basics
Sometimes when we think of capsule wardrobes, you're left with only basics. This doesn't have to be the case! While basics definitely have their role within your closet, the fun and interesting pieces don't have to be packed away. A good shopping list of sorts for your closet could include the following:
Play Dress Up!
Now it's time for the fun part! Creating outfits within your closet is such a good exercise to really see how valuable each piece is within your wardrobe. You'd be amazed at how many different combinations you can create with only a few pieces! Since this is just for fun, don't give yourself any rules as to how you're supposed to create outfits. Try tucking that tunic into a skirt to reuse it as a top! Knot your favourite t-shirt with some jeans! Layer a thin sweater over a feminine blouse to create two new purposes for those pieces – the options are endless! We suggest taking outfit pictures of yourself to remember the pairings. Try to organize your closet so that items that pair well are within an arms reach of each other.
We have a very helpful Facebook Live about this very topic – check it out to hear all about Capsule Wardrobes from Amanda and Shanlyn!
Interested in becoming a subscriber to help build your capsule wardrobe? Sign up for a Favourites box, using promo code BLOG, to try us out risk free for your first month!